Cetain's Students Create Unique Work
Hang on for a minute...we're trying to find some more stories you might like.
Drawing II is a more advanced class that students at Conway High School can take if they want to continue with drawing, Crystal Certain is the instructor. The students spent the past week learning to use different mediums that they will be using on their projects. These mediums include different charcoals, chalk pastels, and oil pastels.
"Water color is fun to use and I just love the other two," Sophomore Jacob Kaufman said.
On Monday, October 22, the students received their assignment. They will use a medium of their choice to make a piece of art that depicts a nature scene. This can include animals in nature, landscapes, or even outer space.The students will be working from a picture they find inspiring.
Kaufman thinks that he will use oil pastels because, he said,  they are "really fun to work with and are easy to blend."
To make the drawings more interesting, Certain's drawing class made backgrounds on large sheets of blank paper on Tuesday. The students used water colors, diluted Tempera paint, and even coffee. They had options when it came to how they were going to apply their paints, or in some cases coffee. Some students decided to throw paint down and continuously rotate their paper to achieve a drip effect. The excess paint would drip onto the floor which required the mop and bucket. Later that morning, Certain and the students got creative by using the mop on the paper to create different textures. The students had an option of using cool colors or warm colors as their backgrounds, and were in stations accordingly.
The due date for this project is undecided since this is the first time Certain has done this project. When the students finish the project they will complete a handout that explains the artistic choices they made and the techniques they used.
"I am proud of myself and feel accomplished," Kaufman said, talking about how the students feel when they have finished a piece of art.
About the Writer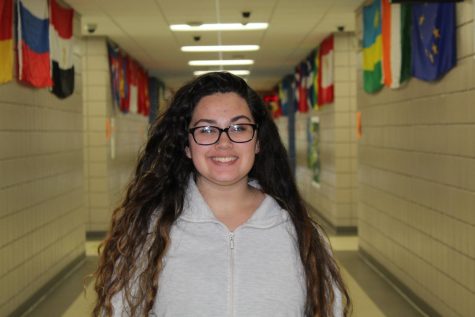 Savannah Eckl, Staff Writer
Junior Savannah Eckl loves to draw in her free time and likes to listen to music and drink coffee. She has four siblings, all girls, and wants to write for the school paper because she thinks it could be a good life skill to attain and could possibly lead into a career.