CJHS Student Plan Spring Break Activities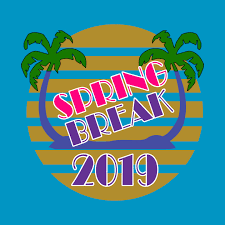 Trenidy Washington, Junior High Writer
March 14, 2019
Hang on for a minute...we're trying to find some more stories you might like.
Spring break is all about having fun and not having to worry about school. You just want to chill and sit by the pool with your friends. Here is what some Conway Junior High School student tend to do this spring break. Makayla Murphy, 9 is throwing a hotel party and is inviting all of her friends to come. They're going to dance to music, play fun games, and do karaoke. She is also going to spend time with her family and have a family day. It is going to include having a big feast, games, swimming, and a barbecue. "I'm happy spring break is close, because school gets tiring and I need a break."  
Another CJHS student, Janay Wilson, 9 is going to attend the hotel party Murphy is throwing. As well she is going to spend time with her immediate family and more. They're going to go to Golden Corral, then go to Hog Wild: Family Fun Center, and enjoy themselves. "My spring break is going to be fun, and I'm going to see all my family."  Serenity Henderson, another CJHS student, is going to Branson, Missouri, with her family. They plan on going to Silver Dollar City and going swimming. They will also go Mel's Hard Luck Diner to eat lunch, and then go Go-Kart riding. "This spring break is going to be lit because I'm doing all of these fun activities with my family," she said. 
William White, 9 another CJHS student, is going to his grandmother's house and is going to hang with all of his cousins. They will play Fortnite, jump on the trampoline, and then have a big feast. Then they will go shopping for new items and accessories. They also want to go to Branson, Missouri and go to Silver Dollar City with his family members and cousins. "I've been needing this break. I have to study like every week for some kind of test, but now I get a whole week of doing fun things and not worrying about school."
This is just a glimpse of what CJHS students are doing for their spring break. Many plan topend time with their family, feast, go swimming, and go out of town. Most people for spring want to just chill at home, but a lot of people want to have fun and go to fun places. Everyone agrees on fun with their family and friends.