Lady Wampus Cats Sign to Play College Soccer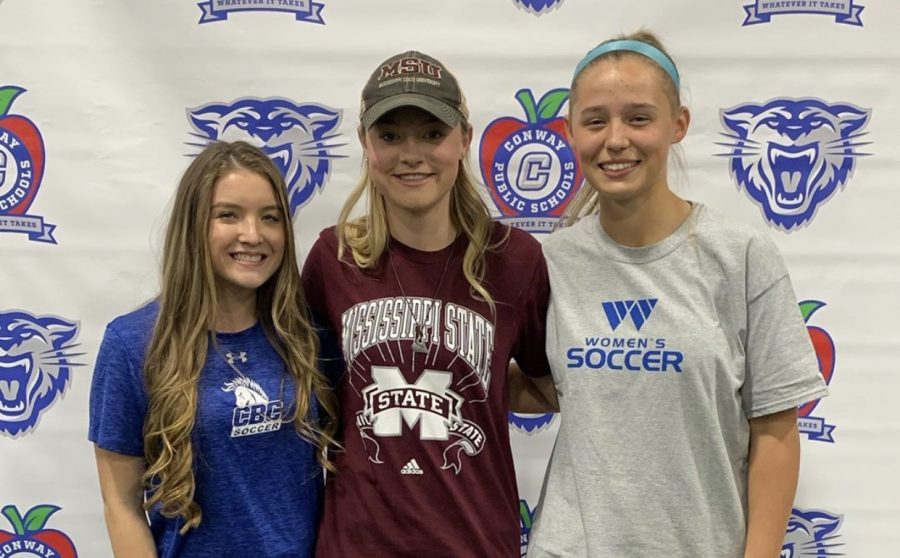 Staff Writer
December 2, 2019
Seniors KK Pavatt, Calista Christian, and Echo Pinard signed to play college soccer November 13 in the small field house at 3:30.
Kk Pavatt is a senior who signed play for  Mississippi State. A strong forward who can play anywhere on the field,  Pavatt won Gatorade player of the year her junior year scoring 39 goals the 2019 season. Pavatt said, " They're rebuilding the program and I want to be a part of something bigger than myself. I want to leave a legacy for those behind me and want to in a family oriented atmosphere which is one of the biggest values at Mississippi State." 
Calista Christian  signed to continue her soccer career at Williams Baptist College.  Christian's teammates consider her a hard working player who pushes herself and others. She always gave her all into this team and Williams Baptist will be lucky to have her. "When I went and visited the campus, I felt safe and comfortable. When I tore my ACL I told the coach and he said he still wanted me there and that he was praying for me. That's just when I knew," she said. 
Echo Pinard signed to play soccer for Central Baptist College. Pinard plays full back but is willing  to play wherever her coach puts her. She is a strong working player who puts her team first no matter what. She said, "I went to visit the school and it was small and a lot of one on one help with the students there. I am thankful for the coaches and my team for pushing me to do my all."