The "Treat" of Photography Internships
Senior Kamy Treat has been interning for Amy Jones Design throughout her senior year, which includes working with photography and design. Her duties consist of assisting on photoshoots, designing products, helping with yearbook designs, and working in Photoshop. Although her love for photography has drawn her to this position, it started long ago.
Treat has been taking Conway's photography class since 10th grade, and says that her time taking it has been momentous. "Photography has become one of my passions. It has become something I enjoy challenging myself with and allows me to look at the world around me in a different way," says Treat.
She has taken her talent beyond the classroom, though, and to competitions like Arkansas Young Artist Association, Ozark Media Arts Festival, and SkillsUSA. At AYAA last year, she won Photography Student of the Year. At OMAF last year, she won first place in the Animal/Wildlife category, second place in the Lifestyle category, and third place in the Sports category. At OMAF this year, she won third place in the Portrait category, as well as Photographer of the Year. Finally, at SkillsUSA, she won the photography competition overall. Treat says that winning the awards "boosted [her] confidence as a photographer and made [her] appreciate how much [she] has learned from everyone around [her], both [her] peers and [her] teachers."
Aside from her opportunities and awards, her grandfather was who inspired to take photography in the first place, who photographs at her church, Central Baptist Church, and whose work everyone looks forward to on his Facebook page. Treat says, "My grandpa has always inspired me with the joy he takes and gives by capturing moments with his camera."
About the Writer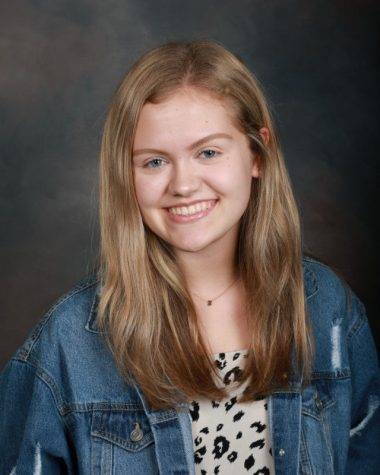 Emma Schluterman, Staff Writer, Photographer
Senior Emma Schluterman is in Fellowship of Christian Athletes and National Honor Society, as well as her third year of photography which is a huge passion of hers. She also loves spending time with her family and friends, going to Round Mountain Coffee, listening to music, traveling, shopping, making people laugh, and designing on Photoshop. She chose journalism because it combines two things she already enjoyed -- writing and photography. "I also like participating in school media because it allows students to have practice in media as well as use their voice," she said.  She plans to major in graphic design in college, allowing her to further pursue photography and design as an occupation someday.