Book Review: GONE by Michael Grant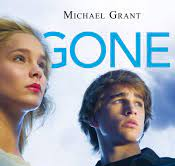 GONE by Michael Grant is must read for young adults, and teenagers. This novel depicts a modern version of Lord Of The Flies, with the addition of superpowered children, an alien entity, and war between the kids trapped in the town and area of Perdido Beach. One of the most immersive novels that details the trauma suffered by kids leaving in the FAYZ.
The FAYZ is the area of California that is surrounded by an impenetrable energy field, 20 miles in diameter, and in the shape of a sphere. FAYZ stands for Fallout Alley Youth Zone, a term that is used throughout the novel. 
The plot of the story is well made, with no holes, and when the novel ends and the plot is wrapped up, there are no questions left unanswered for this first book. The plot, in its most base form, is that the children of Perdido Beach, California and the surrounding area are trapped inside the FAYZ without the supervision of any adults. This is because, at the same time of the FAYZ wall appearing, every person above the age of 14 disappears.
If you want to truly learn what the entire story is about, then you must read this book as soon as possible.