Sports Commentary:
The Wampus Cats are For Real.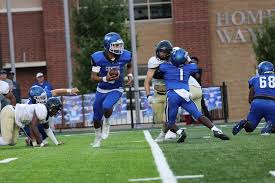 The Wampus Cats marched into Charging Wildcats Stadium and left no doubt as to who the better team was Friday night, dominating bitter rival North Little Rock 38-10 in what was a statement win for the Cats as they move to 4-1 and 2-0 in 7A Central play.
Coming into the game as a six point underdog, the Wampus Cats rushed out to an early 14-3 lead behind a Donny Omolu 12 yard touchdown pass to West Boudeaux, and an 8 yard touchdown run from Boogie Carr. 
With NLR looking to cut the deficit to a one score game midway through the second quarter, Linebacker Garrett Sanders intercepted a deflected pass and took it in for a pick six to put Conway up 21-3. Another defensive stop and a late score would put the Wampus Cats up 28-3 at halftime. The Cats would tack on another touchdown and field goal, while North Little Rock would finally get into the endzone on their last drive of the game, giving the Wampus Cats a 38-10 statement making win.
With the win, the Wampus Cats moved up to #2 [Hootens] in the 7A rankings, only behind three time defending state champion Bryant. The Wampus Cats are proving that they are the top challenger this year to attempt to end Bryant's quest for a fourth straight state championship, with MaxPreps ranking Conway over Bryant as the number one team in 7A and the second ranked team in the state of Arkansas. 
Over the last decade, the Wampus Cats have enjoyed tons of regular season success, but could never find their way around the top contenders in the state. With wins this year over Bentonville and North Little Rock, the Cats have proved that they can beat not only the teams at the bottom and middle of the pack, but they can play with and beat the top teams in the state in their own backyards.
The Cats will face another tough challenge this week as the third ranked Cabot Panthers come to town for another bitter rivalry. For the Wampus Cats, they look to take care of business Friday night and cement their place in the 7A as a top and legitimate contender for their first state championship in over 50 years