Lady Cats Take State Championship!!!
October 29, 2018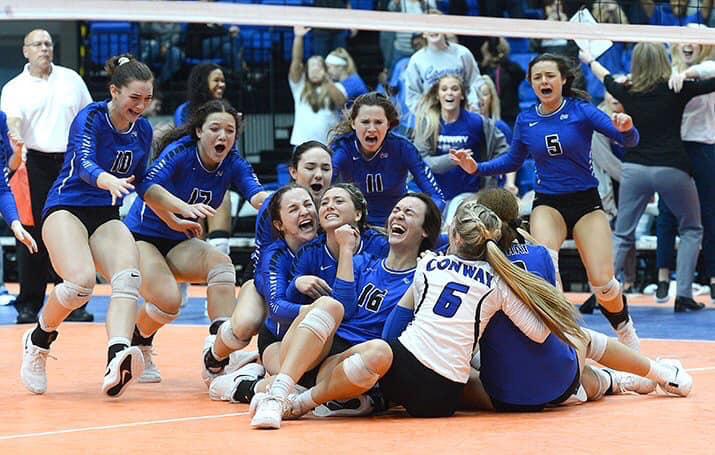 Congratulations to the Conway High School Volleyball team who defeated Fort Smith Southside to win the 6A state championship! The two teams traveled to Hot Springs to compete in Bank OZK Arena on Saturday after winning match-ups in Bentonville earlier in the week. After losing two of three regular season matches to the Mavericks, Conway was looking for revenge when it meant the most.
The Lady Cats got off to a hot start in set one with a 25-13 win. Both teams went back and forth in the second set, but Southside would prevail with a 26-24 victory. After an encouraging talk from Head Coach Laura Crow, the Lady Cats came out firing in the third set. They dominated the Mavericks for a 25-15 win to go up 2 sets to 1. Conway needed one more set to win, but Southside wasn't going down without a fight. After Conway took a 24-22 lead, Southside Head Coach Steve Haaser would call a timeout to regroup. Coming out of the timeout, Conway controlled the momentum, which proved pivotal when senior Karli Ferguson came up with the game winning kill. Conway took the fourth set 25-22 to win the state title.
Karli Ferguson, who was dominant all year long, was crowned with tournament MVP. She led both teams with 22 kills. This was the first state championship for the volleyball team in 20 years, and just their second ever. Thank you to these girls for representing the school well, and for bringing a state title back to Conway!