The Great British Baking Show: The Best Cooking Show Ever
Hang on for a minute...we're trying to find some more stories you might like.
The Great British Baking Show is my new favorite show for a couple of reasons.
First of all, they show so great quality baking and they do stuff that I've never heard of which I think is really cool. On the show they make stuff such as a Bedfordshire clanger which is basically a large rolled pastry that has a dividing wall in the middle and one sweet filling and one savory filling. It was traditionally a coal miner's entire lunch. It's like getting an education in the rich food history of Europe every single time that I watch an episode.
Secondly, they all have good manners. I hate to have to say this about my own country but I have seen many american cooking shows and on all of them the contestants are either rude or vulgar which repulses me from wanting to watch the show in the first place. There are very rarely curse words on the Great British Baking Show. Also the contestants aren't sore losers. Most american contestants are which is another off putting factor.
Third, the hosts are actually funny without making inappropriate jokes. Personally, I find british humor to be better than american because it's more intelligent and requires you to have the cultural and academic knowledge to get the joke.  Most humor that can be found in american tv shows is inappropriate and vulgar which again is off putting and repulsive.
Finally, this show definitely deserves a watch. It's easily bingeable as it's quite addictive. Speaking for myself, I've blown through three seasons in a day before because I was cooking during thanksgiving and it is a good show to watch while you're cooking or just chilling. It's very relaxing. It's definitely not a show that increases your stress levels which I love because I definitely don't need anything to help me raise my stress levels.
About the Writer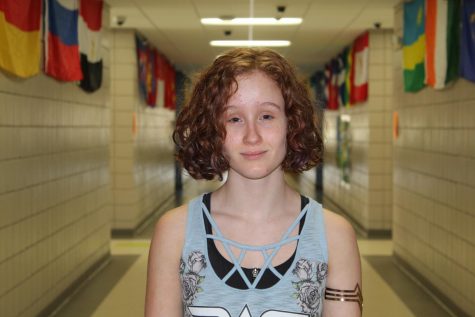 Apphia Boswell, Staff Writer
Junior Apphia Boswell is a member of Beta Club, Chamber Choir, and Creative Writing Club.  She enjoys martial arts, singling, guitar, and working out.  She's a black belt who enjoys writing and is even writing two novels.  Boswell wanted to be involved with Wampus Cat Student News because of her love for writing an informing people about events.