Recap: The Bachelor Finale… Prepare Yourself
Hang on for a minute...we're trying to find some more stories you might like.
Fall of 2018 is where the journey all began. Colton Underwood on the hunt for love, while traveling the world. The beginning of the season began with 30 women total, eliminating multiple at the end of each week. Group dates and one on ones determined Colton's future as each women is trying to win his heart. Every single Bachelor fan was rooting for a few girls that they believed would be in the finals. On March 11th the two part season premiere aired at 7 pm as women all across America tuned in. If you are invested in the show you know that the goal of the show is engagement, while there are supposed to be two women on the line. This season COMPLETELY ALTERED the entire history of the Bachelor as Colton bent every rule possible.
The two part series of the finale began with Tayshia and Colton going on a date only to continue to the fantasy suite, where strictly only conversations were had. Everything was smooth sailing for Colton but most felt that the relationship was not as good as it could be. Next up for a one on one date was with Cassie and Colton, the favorite couple by far. Where everything took an unexpected turn. The date began with a cute coffee shop date in Portugal then leading to a picnic overlooking the scenery. Colton broke the news that Cassie's dad did not give him permission to propose in the end, therefore catching Cassie off guard- questioning the entire thing. As Cassie is still unsure of their relationship she decided to later break up with Colton at their dinner date. This resulted in Colton shaking, tears coming from both sides, and Colton pleading the opportunity to continue their relationship without the boundaries of proposal or even the show. Cassie left anyways saying that she couldn't "get there" leaving Colton angry and upset leading him to jump a huge fence and run away into the darkness. After the whole crew searched high and low, they eventually found him. Colton then proceeded to break up with both of the remaining girls, Tayshia and Hannah G, in order to show his love and sacrifice for Cassie. He ran to go see her and ask for a second chance "day by day", despite her breaking up with him. She saw his true dedication and love for her through him breaking up and going after her. After meeting with Colton's parents the couple decided to continue their story without the contract of the shows engagement and see what all life has in store for them. After weeks of Monday night dedication the final couple is everything we have hoped for and we can't wait to see more of them!!
About the Writer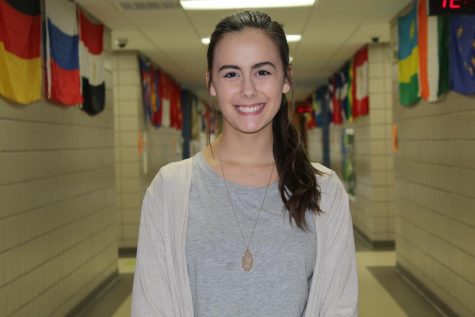 Sydney Greathouse, Staff Writer
Junior Sydney Greathouse is involved in Beta Club and Key Club. She has a passion for photography and writing and loves to get creative and do fun project with her friends. She enjoys hanging out with her family and friends on the weekend. Greathouse is the photographer and videographer for New Life Church and runs their social media accounts for upcoming big events. She wants to write for this paper because it opens up doors to creativity at Conway High. She gets the chance to develop relationships and enter the real world in a sense that pushes her to get the job done.