Rising Female Artists: 2019 and All the Hits it has to Offer
Hang on for a minute...we're trying to find some more stories you might like.
2019 so far has been a really big year for females in the music business as all of the social restrictions and expectations have been brought down. Many rising artists like Billie Eilish, Ariana Grande, and Kacey Musgraves and many others have hit some major records and released the most amazing albums so far. The pop cultural stratosphere has been expanded as the "Thank U Next" album was the most streamed pop album in one week having 307 million on demand audio streams by a female artist. All 12 songs were on the Hot 100 billboard. Personally I think that this album was even better than the "Sweetner" album because it had some familiar songs/recent singles in it such as "7 Rings" but also introduced some solid new songs such as "NASA" and "break up with your girlfriend, i'm bored". The style of this album is post breakup inspiration with a major aspect of new style and image that none of her old albums had.
Billie Eilish is a whole other version of different as her style is mysterious, creepy, yet super intriguing. This year her album "Billie Eilish Experience" hit the music industry also featuring some singles as well as some amazing new songs like "bad guy". The song  "my strange addiction" amazed fans as it featured some audio clips from the favorite show "The Office". 10/10 recommend the album for everyone!
The country artist Kacey Musgraves was definitely out there in 2018 but personally I discovered just how good her music is in the year 2019. I do not like country music but the style and flow of her album "Golden Hour" has a really good feel to it. It doesn't seem too country but more so like it has its own style and genre. 10/10 also recommend that album because it is definitely a big hit. Overall, these are just some, but are mainly, the major female artists that are blowing minds and making records one after the next. Keep a lookout for their music because you never know when a new album or amazing song will be released.
About the Writer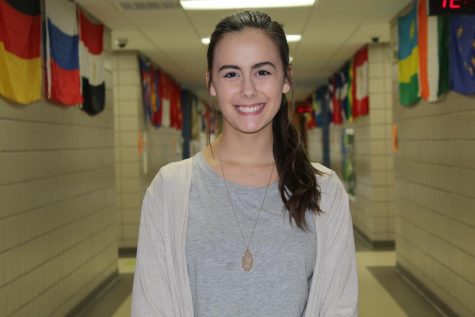 Sydney Greathouse, Staff Writer
Junior Sydney Greathouse is involved in Beta Club and Key Club. She has a passion for photography and writing and loves to get creative and do fun project with her friends. She enjoys hanging out with her family and friends on the weekend. Greathouse is the photographer and videographer for New Life Church and runs their social media accounts for upcoming big events. She wants to write for this paper because it opens up doors to creativity at Conway High. She gets the chance to develop relationships and enter the real world in a sense that pushes her to get the job done.