The 2019 Cross Country Season Recap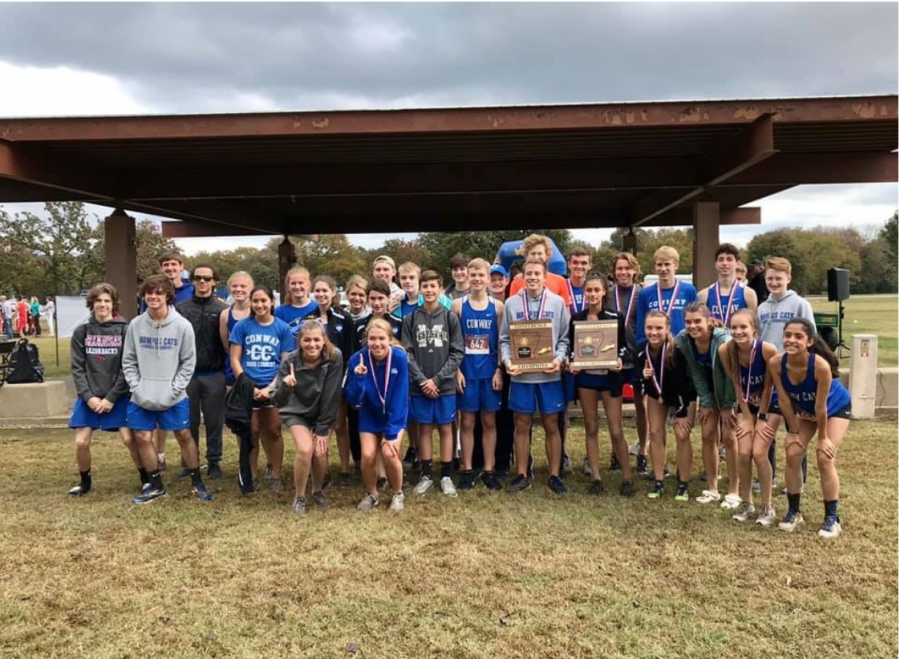 Brady Myers, Journalism I Student
December 2, 2019
Boys and Girls Cross Country Teams finished their successful seasons with their end of year banquet November 15.  The teams had much to celebrate and honored the teams' graduating seniors.
The boy's high school team won 6 meets and 1 runner up in 9 meets. Conway won their 2nd straight conference win this year and finished 4th in state. The team was led by senior Brady Pascoe, juniors Ian Bush, Gunter Campbell, Ethan Kailey, John Sutton, and Cade Swindle. Swindle ran the season fastest 3 mile with a time of 15:44.40 at the Cyclone Invitational. Pascoe and Swindle were named as an Arkansas All Star and ran in the Arkansas vs. Oklahoma All Star meet. Pascoe has placed top 10 8 times in 9 meets he has ran in and Swindle has placed 6 times in the top 10 in 9 meets and placed 9th in the All Star Meet. Tonight Kayden Castles, Gabe Chandler, Austin Koeth, and Brady Pascoe will be honored at the senior banquet. 
The high school girls finished 1st in conference being their 4th win in the past 5 years and finished 9th in the state. The team was led by seniors Sara Holman and Felicity Leamon, junior Harper Sobel, juniors Allison Ross, Denielle Luyet, and Alex Gruchalski. Also Freshman Abbott Kyle and Lluvia Avalos. Sara Holman had the season-best time with 3 miles with a time of 19:28.72 at the Danny Westbrook Bryant Hornet Invitational. Holman has placed in the top 10 7 times in the 9 meets she has ran in. Seniors Sara Holman, Felicity Leamon, Maddie Meek, and Sarah Wittenburg will be honored tonight at the senior banquet. 
Coach Kennedy spoke proudly of this year's teams.  "I'm especially impressed by their work ethic, competitive nature, and the camaraderie they've built," he said.