My Favorite Podcast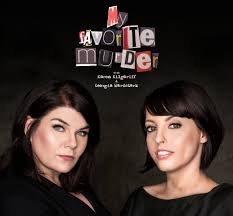 Hannah Gordon, Staff Writer
April 13, 2020
Like most of us during quarantine, I have found myself very bored as well as unmotivated. But, one thing that has helped keep my spirits up is podcasts. True Crime has become a popular interest and subject for many this past year. Podcasts have also become a huge focus as a way to escape from the chaos and listen to other's stories. 
One of my favorite podcasts is My Favorite Murder, a true-crime comedy podcast hosted by Karen Kilgariff and Georgia Hardstark. The show began in 2016 and has grown to be one of the top podcasts on charts. These two women individually study and tell stories of different murders in a mature but also funny way.  They upload a new podcast every Thursday, and minisode every Monday where they read murders sent in from their fans called, Murderinos. They've gone on tours through the US and Canada, and filmed show which includes audience participation and reaction as the tell each murder story 
My Favorite Murder is a great podcast to listen to in the car, while we are still, of course, social distancing. It's a great way to laugh after a long day and they never fail to engage you in every detail of the story.