The Forever Purge Ends The Purge Series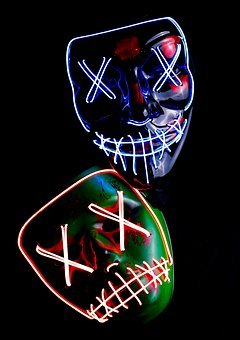 The Purge has been a well established franchise in the horror genre since the first movie emerged in 2013. Since its origin, the story has depicted one night a year when crime is legal and Americans are allowed to 'purge' all the pent up rage they have. Throughout the years the movies show the origin of the purge as well as its impact on both lower and higher class citizens allowing there to be a slight political aspect without it becoming propaganda towards one side. Most characters are changed from movie to movie, the only exception being the 'stranger' in the first and second film as well as the voice of the iconic purge announcement shown in all of the films. 
     The Forever Purge is the fifth installment to the franchise and acts as a direct sequel to the Purge: Election Year (2016). Following the presidential elections from the last movie where the purge holiday was abolished, the new story follows a Mexican couple escaping from a drug cartel before becoming stranded in a ranch in Texas. There, they find themselves trapped by a group of outsiders who unlawfully create their own purge. Little else is known about the plot but the cast is highlighted by the female protagonist (Adela) being played by Ana de le Reguera and male lead (Juan) as Tenoch Huerta. As the fifth movie in the franchise, this is predicted to be the movie to end the story of the purge.  Like many films predicted to be released last year, the date was moved back due to covid and is now predicted to come out on July 9, 2021.