Game of the Year: "The Show '21"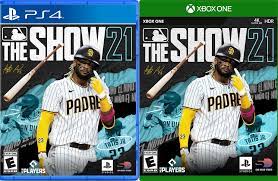 If you play Playstation or Xbox at all, chances are you've heard of the new "MLB the show '21" that came out last week. The exciting part of this game is that it is now available on the Xbox. Since the show came out it has been a Playstation exclusive, leaving Xbox players with no baseball games to play. The newest version of the game even offers crossplay between the two gaming systems.
I myself have been playing the show on Playstation for the past two years, but decided to switch it up and play on Xbox this year. And personally I love it. The game is outstanding in my opinion. The graphics are amazing, and the game feels very smooth when you play. There are minor changes, but the game is virtually the same as last year. The fielding and catching in the outfield is 100x better, and the hitting is more practical.
The biggest change that I love is the "My Career" feature. In this year's game, you can be a two way player, meaning you can hit and pitch. The game remains very fun, but difficult at the same time. The game requires you to tame your temper, which is something everyone who has played the game can agree on. Overall, I love the game. I know I will be playing this years game for a long time.