Boogie Carr the Latest in Long Line of Conway RB Standouts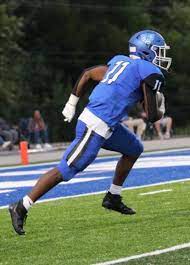 Over the last decade, Wampus Cat fans have been spoiled with the level of running back talent to come through the program. In recent years, players like Michael George and Jammal Bethune come to mind as all state level talent to grace the backfield for the Cats. 
This year, the 5-1 Wampus Cats have another standout running back leading the charge, Junior Boogie Carr. While Boogie spent his sophomore season as the backup to 1000 yard rusher Jammal Bethune in 2020, Carr got plenty of opportunities as the backup and left no doubt as to who the future at the running back position was, providing Conway with a burst of speed and athleticism compared to Bethune's more powerful, punishing running style.
Boogie says the senior leadership he received  under Bethune helped him make the seamless transition into the starting role. "Seinor leadership, just him having experience, telling me things I'll see in the game, things that I can know beforehand and get better at during the season and just being ready when my time comes."
While Carr is without a doubt the lead back on this Wampus Cat team, he isn't the only running back making an impact. Fellow Juniors Lala Smtih, the younger brother of star Conway wideout Manny Smith, and Jaylen Chambers have also been key contributors in the running game. Boogie says the depth in the RB room has been a key part of Conway's success this season. "I feel like we have the best running back core in the state. We have 3 guys that can all go at any moment. We all learn from each other in practice and hold each other accountable, and we can all make plays on the field."
As the Wampus Cats travel to Northside looking to push their win streak to six games, Carr hopes to continue what has been a breakout season for the junior and help Conway leave Forth Smith Friday night with a 6-1 start.