"Hit me With Your Best Shot" –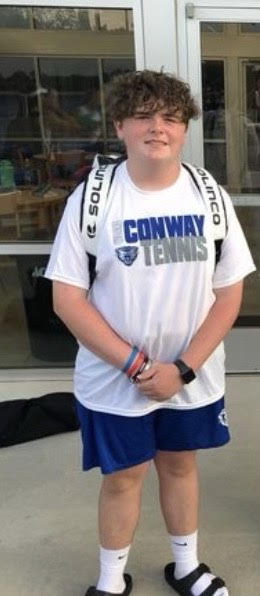 "Mattson says, hit me with your best shot"
Conway sophomore, Carter Mattson, may seem like the average student, but he actually has an exciting hobby. Mattson plays tennis for Conway Highschool. He is very passionate about tennis and winning for his team. Mattson has learned and improved a lot this year. He is looking to win the conference championship for his school.
Mattson has played tennis for a little over 2 years. He is fairly new to tennis, but he is already making efforts to help his team. Mattson says, "I've improved a ton since I first started playing." In tennis, he plays doubles and his partner is Caiden Rudd. Mattson and Rudd's record is 4-1 on the season, and his team overall is 4-2.
Mattson's tennis schedule is not easy. After school, he practices every day from 2:30-4:15. On top of the practice, Conway has a match every Tuesday and Thursday. Mattson said, "Our team is really good, and everyone on the team makes an impact." He also said that the best player on the team is Tanner New. The conference tournament is coming up, and Mattson is ready. He said "I am pretty confident, and think we can perform well."
Mattson loves tennis and hopes to use what he learns from it in the future. He said his goal is to play tennis at the University of Arkansas.