Touchdown Wampus Cats!!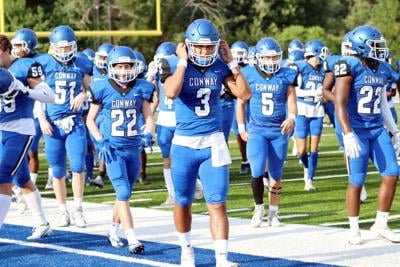 The Conway Wampus Cats football team crushed Little Rock Southwest 42-0 Friday Night. The Wampus Cats played Little Rock South West in Little Rock, in a blowout victory for the Cats.
The team was led by quarterback Donovyn Omolo and running back Boogie Carr. The Wampus Cats are looking good so far this season, as they are off to a 4-0 start. Greyson Dumas, a linebacker for the team said, "Our team is looking good, and I'm confident we can go far."
The Wampus Cats, who are coached by Keith Fimple, look to get to the state championship after a season ending loss against Fayetteville last year. The Cats hope to keep the season rolling as they prepare for a tough North Little Rock team Friday night, in Conway.