The Reality of Wrestling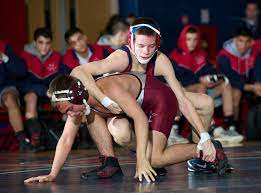 Aidyn Dillion is a wrestler at Conway Highschool and has been a wrestler since 9th grade. He originally did it for fun, but then he started falling in love with it and has been in wrestling ever since. If he continues to be in wrestling, he could get a scholarship and be able to go to any college, or trade school he wants with that scholarship.
Aidyn not only learned how to disarm someone who might be attacking him, but he also learned how to work out properly, which led to him creating his own workout schedule. He originally thought that wrestling was like it was on tv, but he learned that it was completely different. "I don't want you to succeed, more than you want to succeed."-Coach Ford
Coach Ford has taught each student a lot and hopes they can grow with each passing day. Aidyn Dillion has learned a lot and is taking Coach Ford's advice to heart, and hopes to continue growing.