Courtside Cats Play at Conway vs. NLR Basketball Games
Photo courtesy of Wampus Cat Athletics Facebook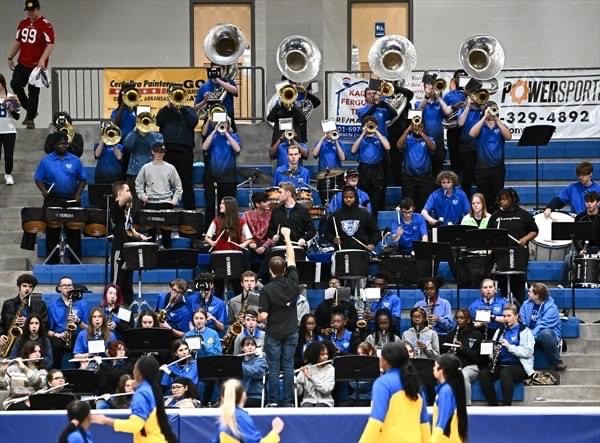 The "Courtside Cats," a Conway Bands volunteer group for basketball games, performed during both the girls and boys basketball games. The band played a variety of stand tunes and drum cadences, including "Eye of the Tiger" and the theme from "The Mandalorian." Courtside Cats had a large turnout for this game, with over seventy students signed up.
The band began rehearsal at 4:00pm on Friday, January 6 to run a few stand tunes. At 5:00pm, the band had a chili dinner provided by the Band Boosters Organization. Sandwiches, cookies, chips, and water were also provided. There was also a vegan chili option for students who don't eat meat. At 6:00pm, the band began their performance in the Buzz Bolding Arena with the start of the Conway vs. NLR girls basketball game (of which Conway won). The band took a "chop break" (which is a break for brass players' "chops" or lips) after the game. Then, the Courtside Cats performed at the boys basketball game (of which we also won). The band stayed until the end of the boy's game.
There was a large turnout of band students to the game, with over seventy signing up. In fact, so many percussionists signed up that there were not enough instruments for every percussionist. The band students seemed to enjoy their experience, though. Tenor saxophone player Jackson Starnes said, "The Courtside Cats was a fun experience and had lots of energy." The Courtside Cats plan to perform at the upcoming home basketball games.