Wampus Cats Dominate Rogers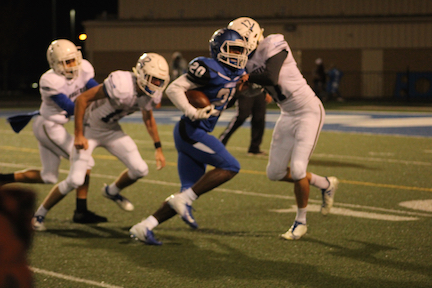 Mason Choate, Sports Writer
November 12, 2018
After an embarrassing loss in their regular season finale against Bryant, Conway defeated Rogers in the first round of the 7A state playoffs 49-7. The stands were the emptiest they had been all year, but that didn't stop the Cats from taking it to Rogers.
The 3 seed Wampus Cats came out firing in the first half, scoring on six of eight drives to take a 42-0 lead at halftime.  The offense was powered by 3 first half rushing touchdowns from Senior running back Cary McClain. Shifty sophomore receiver Bryce Bohanon caught 4 passes for 60 yards. Quarterback Jovoni Johnson completed 6 passes on 11 attempts for 99 yards.
Senior cornerback Randy Thomas led the dominant defense with 2 interceptions. The Cats would hold Rogers quarterback Hunter Loyd to 158 yards passing, while forcing 3 interceptions. Loyd would find Mason Ross for a 46 yard touchdown pass in the fourth quarter, the only score of the game for Rogers.
Head Coach Kieth Fimple decided to rest the starters in the uneventful second half. The only second half score for the Cats came on a 32 yard touchdown run by Deonta Bennett.
"
"The team played clean and executed well. It was a great way for the seniors to end our careers at John McConnell Stadium."
— Senior Linebacker Brandon Givens
The Wampus Cats will travel to Bentonville this Friday, November 16 to take on the 2 seed Bentonville West in the quarterfinals of the 7A state playoffs.