The Meanest Musical On Broadway
Hang on for a minute...we're trying to find some more stories you might like.
The Plastics have just entered Broadway with the new musical Mean Girls. Based off of Tina Fey's 2004 hit blockbuster, the most popular girls of North Shore are back, but this time their story is told with hilarious musical numbers, choreography, and even more pink and teenage hormones than you could imagine. The musical is housed in the August Wilson Theater on 52nd St, right in the heart of Midtown and surrounded by other legendary Broadway shows such as Wicked, Hamilton, and Phantom of the Opera. As soon as you approach the venue you are welcomed with everything shiny and pink: the marquee, the posters, and even the pots that hold plants. Drinks available to purchase such as 'On Wednesdays We Drink Pink' to 'Is Butter a Carb?' alluding to the movie and make the experience even more exciting for audience members.
Mean Girls on Broadway had one of the best cast that I have ever witnessed grace the stage. Barrett Wilbert Weed, who played Veronica Sawyer in the popular musical 'Heathers', delivered one of the best performances I have ever seen. She plays Janis Ian, the slightly gothic, and incredibly funny teenager who befriends Cady Heron, the new girl in school, played by Erika Henningsen. Weed's performance was hilarious and had me practically in tears, especially with her sidekick Damian Hubbard, played by Grey Henson. Taylor Louderman also gave an outstanding performance as Regina George, so mean that you're forced to fall under her spell and love her. By far my favorite character to sing in the spotlight was none other than Karen Smith, played by Kate Rockwell, the typical dumb blonde who will have you clenching your sides with laughter after she makes one of her naive comments.
Everything about this production was amazing, from the first scene of Janis and Damian singing 'A Cautionary Tail' warning us why we shouldn't fall into the pressure of high school mean girls, to the finale when Cady Heron belts out 'I See Stars' to conclude with a happy ending of friendship. The soundtrack had many great songs, some of my favorites being 'Meet the Plastics', 'Revenge Party', and 'Whose House Is This?'. The orchestra in the pit was amazing, as well as lighting and sound, coming together to create a memorable experience for viewers. Mean Girls on Broadway shows that you can 'make fetch happen' with this award winning cast, directors, and stage crew. You may not be able to sit with The Plastics, but you can watch their hilarious story as they guide you through high school in this amazing musical.
About the Writer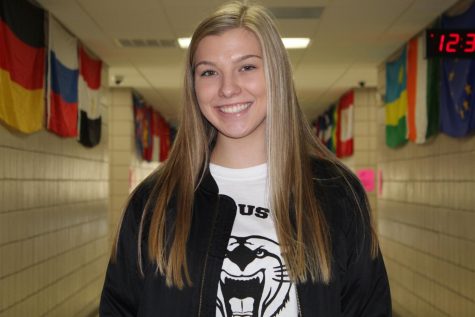 Hannah Taylor, Staff Writer
Senior Hannah Taylor is on the Varsity Tennis Team at Conway High School and is in Student Council, Caring Cats, and the Forensics Team. Taylor loves to travel, go shopping, and hanging out and making funny videos with her friends. She spends most of her time either on the tennis courts, hitting with her best friends, or going out to get coffee, talking, or listening to music. She has always loved to read and write about other people, so taking journalism and writing for the school paper was a fun outlet to channel this side of me'. She aspires to be a news anchor, or work with television broadcasting, so writing these news stories is really helping her.