Athletic Department Provides Opportunities For More Than Just Athletes
Hang on for a minute...we're trying to find some more stories you might like.
Conway Public schools offers many programs and organizations to for its students interests and passions. Clubs like FBLA, Key Club, Caring Cats and several more allow for a diverse arrangement of programs.  People sometimes take for granted the many tools that this school provides for us, one thing people might not realize is how great of an athletic department we have.  Our athletic department offers up tools to help students succeed in whatever you want to do. I personally have been affected by just how great they are as well as Senior Mason Choate.
Being a Sophomore, I really didn't know what to expect this first year at campus, but honestly it has been all positives.  I lucked into getting a gig with Choate, helping cover sports for the Wampus Cats and have established a spot on our student newspaper.  People like the Athletic Director Coach Clint Ashcraft, and Assistant Athletic Director Janet Taylor have really helped Mason and me be in the position we're in today.
Taylor has helped us in our attempts to one day be sports commentators by letting us call the volleyball games and upcoming basketball games (non conference) as well as, for the first time, broadcasting this years baseball games. These have really helped me as I try to really just learn and embrace the experience every gig we get.  This demonstrates the interest of these athletic administrators not just in student athletes, but in all students — even students interested in sports journalism.
Coach Ashcraft has gotten off to an excellent start as athletic director, but one key thing that stands out in my mind was him giving Mason and me the opportunity to be the PA announcer and run the scoreboard and clock at a 7th grade football game this year.  Things like that don't just happen all the time, and I know what a privilege it is to be able to go to Conway and get opportunities such as this one.
These special experiences show how Conway's Athletic Department is one of a kind in terms of people and the opportunities that they are willing to give to aspiring commentators, or sports journalist to let them get better at a skill that could turn into a dream job one day.
About the Writer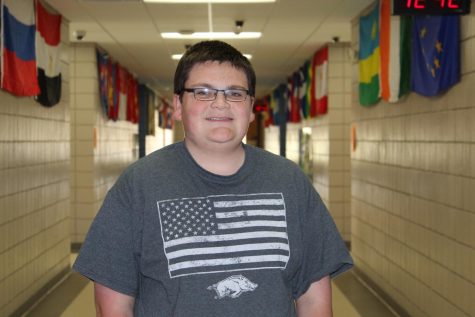 Landon Dunn, Staff Writer
Sophomore Landon Dunn is on the golf team at Conway High School and helps with commentary and stats for various sports. He wants to be a part of newspaper because it seems fun and he feels like he could get a lot of people to start viewing it. He enjoys writing about sports and informing the students about what happens around the school.