2018 Football Season Recap
Hang on for a minute...we're trying to find some more stories you might like.
The 2018 football season has just wrapped up for your Conway Wampus Cats football team and it sure was a good one.  Many were sceptical on how the year would play out as we had the pieces to go far, but with a new head man in Coach Keith Fimple it was a matter of would he have enough time to implement his own style of play to both sides of the ball.
It was safe to say that it was indeed a GREAT year for the team as we went 9-3 overall and made it to the second round of the playoffs.  Our offense was ultra explosive with key guys like Jovoni Johnson, Cary McClain, and Bryce Bohanon. The offense proved time and time again how good they were with everything from deep shots down the field to huge runs from a variety of runners.  The defense was also explosive, and always seem to show up when it counted, whether it was a 3rd down sack, or a HUGE defensive stop by guys like Tez Miller and Malik Benton, who were some of the best defensive backs in the state this season. Another unit that deserves a ton of credit was the O line, guys like Haze Denton, LJ Hansberry, and Lance Rogers, along with tight ends Nick Tufu and Slayde Smith were studs up front.  That unit made headlines throughout the state as one of the best in Arkansas, all proving that people should believe the hype of Coach Fimple.
All in all it was a great 2018 football season with many memories and highlights that will be talked about for years to come.  Until next year, go Wampus Cats!!
About the Contributors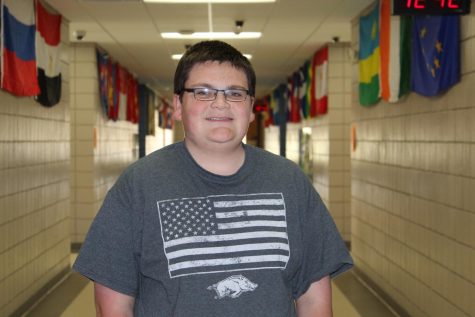 Landon Dunn, Staff Writer
Sophomore Landon Dunn is on the golf team at Conway High School and helps with commentary and stats for various sports. He wants to be a part of newspaper because it seems fun and he feels like he could get a lot of people to start viewing it. He enjoys writing about sports and informing the students about what happens around the school.