Crocs: The Shoe of the Decade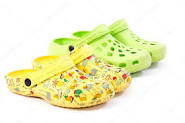 Harley Lee, Staff Writer
March 14, 2019
Hang on for a minute...we're trying to find some more stories you might like.
Many kids, tweens, teens, adults, and elderly people have fallen into the croc trend. Weather its croc flip flops, fuzzy clogs, boots, sandals, slip on slides, tennis shoes, loafers, wedges, flats, and many many more. 360 more to be exact. Weather you think they're terribly ugly or quirky and adorable, there's a style that can fit your personality perfectly. There are more than 20 colors to pick from and many patterns you can get on them, along with Giblets- little buttons you can put in the holes.
Crocs were invented by an American company called Foam Creations in Niwot Colorado by Scott Seamans. Lyndon Hanson, and George Boedecker Jr. in 2002. The shoe was originally used for fishing, and outdoor water sports. The first time they were shown to buy, they sold out but there were only 200 available. Since this past year Crocs have sold over 300 million pairs. The CEO of the Crocs company is Andrew Rees. The headquarters are in Colorado but there are Crocs sold all over the us.
Many people love these shoes because of how the foam molds to your exact foot shape, they can go with almost every outfit, many find them very comfortable, the color range is great, they come with accessories, there are different styles for every season and type of weather, they are unisex, they are for all ages, they are around $20- $50 dollars, and they are waterproof. Who wouldn't want a shoe like that? These shoes are nearly impossible to destroy because of how flexible the material is. All shipping over $35 is free and they have a 90 day warranty.
The Crocs brand has social media profiles including, Instagram, Twitter, Pinterest, Facebook, and Youtube with well over thousands of followers on each. Everyone is going crazy about Crocs, and it seems to me this might just be the shoe of the decade. Will they ever go out of style? Probably not. So go ahead to your local Crocs store, shoe store, or website and purchase your very own pair!