Lady Cats Finish Runners Up
Hang on for a minute...we're trying to find some more stories you might like.
What a year it has been for Conway Athletics for the 2018-2019 school year.  It was kicked off by a great year for our football team as we finished 9-3 overall, followed up by a INCREDIBLE year for our volleyball girls as we took home a state title.  Then it was off to basketball where both the boys and girls made it to the second round of the state playoffs, as well as our baseball and softball teams doing well in their respected sports.  Then it came down to soccer and lets just say it was a season to be remembered.
The boys soccer team had another wonderful year making it to the semi finals in the state tournament, but it was the girls soccer program that had everyone in the stands oohing and ahhing on a nightly basis.  The Ladycats cruised through the regular season finishing off with a record of 14-0 in conference play and only having one loss on the year; that coming from a team in Oklahoma. The Ladycats handled their business throughout the state tournament as they allowed only 2 goals through the 3 state games, winning 4-1 against Rogers-Heritage, and 1-0 against Mt. Saint Mary's. This all led up to the much anticipated matchup against rivals Bryant high. The game got off to a rough start as Bryant took a very early 1- neal lead but jr. leader KK Pavate would have other plans as she would tie the game up at 1 goal a piece heading into the final minutes. When it was looking like we would go into a penalty kicks which in soccer is their overtime the refs seemed to have other plans as they called a questionable call late into the game giving Bryant a free kick to try and end the game. With a clutch penalty kick the Bryant Ladycats took control and ended up winning the 2019 Girls 6a state championship.  Overall it was a great season and we look forward to talking about all our sports this upcoming year, but until next time Go Wampus Cats and this is Landon Dunn signings out.
About the Writer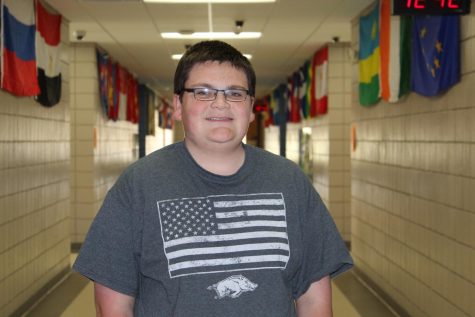 Landon Dunn, Staff Writer
Sophomore Landon Dunn is on the golf team at Conway High School and helps with commentary and stats for various sports. He wants to be a part of newspaper because it seems fun and he feels like he could get a lot of people to start viewing it. He enjoys writing about sports and informing the students about what happens around the school.