What happened in Wylie Texas: Candy Montgomery & Betty Gore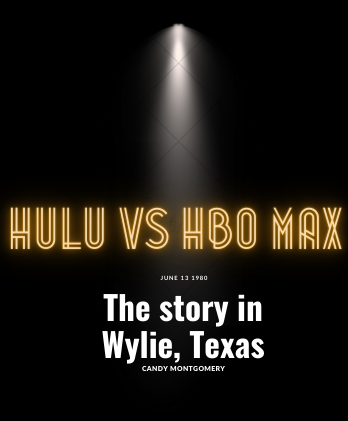 True crime has become a scorching topic that has people highly fascinated. Whether you're listening to a true crime podcast, reading a book, an article, a movie, or a TV show, you're bound to have some opinions on how everything played out despite what's been done and done over and over. When a case gains popularity, no matter how old it is, it's bound to get a docuseries, a movie, a tv show, or some part in the media. Coincidentally, HBO Max and Hulu both covered the same true crime story within the same year of each other. 
     Candy Montgomery was born on November 15, 1949, and was eventually accused of murdering her ex-lover/affair's wife Betty Gore. At the time of the murder, Allan and Candy's affair had been over for months, and seemingly forgotten for the two. It's not known as fact what happened exactly that day, or if Betty knew about the affair or not. Candy and Betty's daughters were friends, and Alisa had been staying with the Montgomery family. Candy came over to pick up Alisa's swimsuit for her swim lessons, and that's when Betty Gore allegedly confronted Candy with an Ax from the garage. Candy says that Betty knew about the affair and was telling her that it couldn't keep happening anymore. It's unclear exactly what happened that day as we only have Candy's story and whatever reasoning we can apply. 
     Love and Death featuring Elizabeth Olsen as Candy Montgomery first came out on April 27, 2023, and Candy on Hulu came out on May 9, 2022. It's quite odd how both huge streaming platforms released almost the exact same show within 12 months of each other. After watching both shows, it's almost like watching the same show but in a "different font." The actors in Hulu's "Candy" look the most similar to the real people in my opinion. 
     After watching both series, keep in mind that 'Love and Death' is still airing, I think that I've noticed a key difference between the two. In 'Love and Death' it shows a lot of the defense that was used to gain Candy's freedom, and it almost feels like a defense to her in itself. However, 'Candy', feels like it's more of a victim's perspective, why what she did was wrong and inexcusable. In the end, this is a real story, with real victims and pain. Candy Montgomery is free today and is a mental health counselor in Georgia believe it or not.