Conway Tennis Takes on Conference
Hang on for a minute...we're trying to find some more stories you might like.
On Sunday, September 30, 2018 the Conway High School Varsity Tennis Team made the two hour ride to Fort Smith in order to play at the conference tournament hosted at the Fort Smith Athletic Club on October 1-2. The top six boys and girls of CHS tennis used Sunday as a day to practice at the athletic club, and bond together one last time as a team. "It was very bittersweet at our team dinner that night because we were having such a fun time, but knew that our tennis careers were coming to a close," Kate Ferguson, Senior, says.
On Monday, October 1, the twelve athletes played their hardest against the toughest teams in conference, and Martez Trezvant (boy's singles), Taylor Lemieux and Ashleigh Darnell (girl's doubles), and Thomas McNabb and Parker Padgett (boys doubles) won their first match which allowed them to play again that day. The team then won all of their matches that day, and advanced to semi-finals on Tuesday. "Advancing on Monday was super awesome, but honestly my favorite part was hanging out when the Central High and Fort Smith Southside girls came to our hotel and we hung out all night!" Lemieux exclaimed.
The pressure was intense for Conway on Tuesday, October 2, because their boys and girls doubles had advanced to finals. McNabb and Padgett played their hardest opponents, and ended up finishing fourth in conference after a tough loss. Lemieux and Darnell advanced to be the last match of the day, and defeated Fort Smith Southside to win the conference tournament for girl's doubles. "Our whole team was cheering us on, and the wave of happiness was indescribable!" Darnell explains her excitement after they won. The team then made their way back to Conway with a celebratory dinner at Freddy's, and a first place trophy in hand.
About the Writer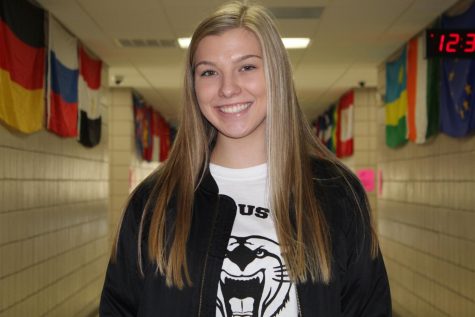 Hannah Taylor, Staff Writer
Senior Hannah Taylor is on the Varsity Tennis Team at Conway High School and is in Student Council, Caring Cats, and the Forensics Team. Taylor loves to travel, go shopping, and hanging out and making funny videos with her friends. She spends most of her time either on the tennis courts, hitting with her best friends, or going out to get coffee, talking, or listening to music. She has always loved to read and write about other people, so taking journalism and writing for the school paper was a fun outlet to channel this side of me'. She aspires to be a news anchor, or work with television broadcasting, so writing these news stories is really helping her.