On and Off the Field: With Bryce Bohanon
Hang on for a minute...we're trying to find some more stories you might like.
When people hear the name 'Bryce Bohanon' they think of those Friday Night lights, the student section shouting, "HE'S A SOPHOMORE," to the opposing team, his incredible catches, and his even crazier runs.  With that being said, few people really know the kid under the helmet. Many people might be interested to learn what he does for fun away from the football field and this is what Bohanon had this to say about what he likes doing away from sports.
"I really enjoy playing Fortnite and hanging out with my friends on the weekends."
When Bohanon isn't tearing it up on the football field, he can be found lighting it up on Fortnite with his friends playing everything from 'duos' and 'squads' to 'playground mode.'  He really enjoys relaxing and playing video games on Saturdays after a long hard nights work on the gridiron, and just enjoys unplugging. Bohanon also enjoys going out to eat or going to get togethers with his friends. He feels like that is a chance for him to go back to being social and relaxed.  Bohanon feels like it's important to unplug with friends before the following Monday starts, then it's back to studying and working hard in the classroom, in practice, and for the following week's game.
Bohanon will also be playing basketball for the Wampus Cats this year, a pretty big task for a sophomore, but feels like he's up for the challenge.  "I'm fine with it, I love sports so I love getting the opportunity to play them for my school," says Bohanon. Certainly a class act for the 15 year old standout.  The best of luck to him for the tail end of his football season, and for the start of basketball season in just a few weeks away. Go Cats!
About the Writer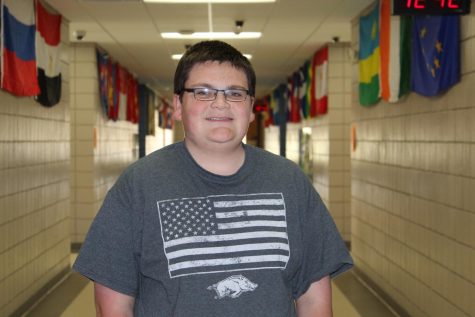 Landon Dunn, Staff Writer
Sophomore Landon Dunn is on the golf team at Conway High School and helps with commentary and stats for various sports. He wants to be a part of newspaper because it seems fun and he feels like he could get a lot of people to start viewing it. He enjoys writing about sports and informing the students about what happens around the school.